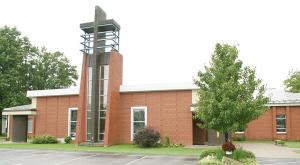 Our First Saturday devotion to Our Lady of Fatima will begin again on July 4, 2020, at St. Teresa of Calcutta, which is located at 903 Fairdale Road, Fairdale, KY 40118.
Fr. Benni Pengiparambil, pastor of St. Teresa of Calcutta (formerly St. Jerome), will celebrate Mass at 9AM. Devotion will follow at 9:30AM. Confessions will be heard during the Marian Devotion.
"The deepest desire of the hearts of both the Mother of God and St. Teresa is to satiate the thirst of the Heart of Jesus for love and for souls."

Father Michael Gaitley, 33 Days to Morning Glory
"That suffering has to come that came in the life of Our Lady, that came in the life of Jesus – it has to come in our life also. Only never put on a long face. Suffering is a gift from God. It is between you and Jesus alone inside."

St. Teresa of Calutta
Jesus is the light in the darkness.